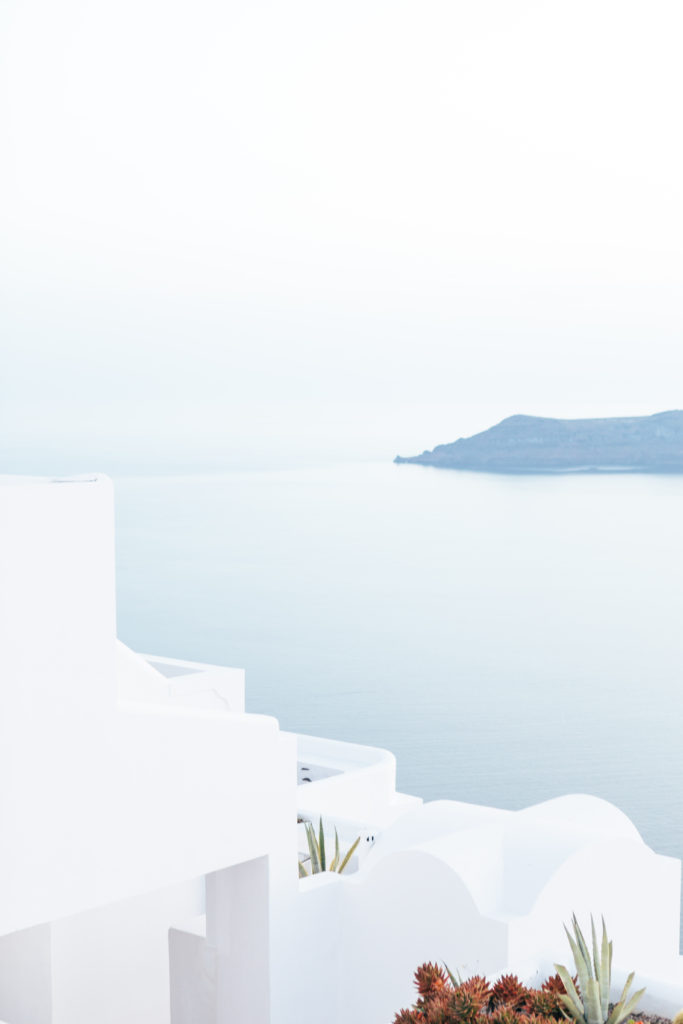 How to travel to Santorini with $600:
Santorini's airport is more active than in the past; however, getting a direct flight there will definitely cost you. My advice: find the cheapest flight to Europe first then purchase any flight from Europe to Santorini. For us, that was a $480 flight to Paris. Once you get to Europe, you can find pretty cheap flights to anywhere within the continent. We found a great flight with Transavia for $100 from Paris to Santorini. If you would like to take a ferry to the port of Ammoudi like travelers in the past, you can get a flight to Athens and then boat to the island. However, for just about the same cost, we were able to enjoy the direct flight from Paris to Santorini.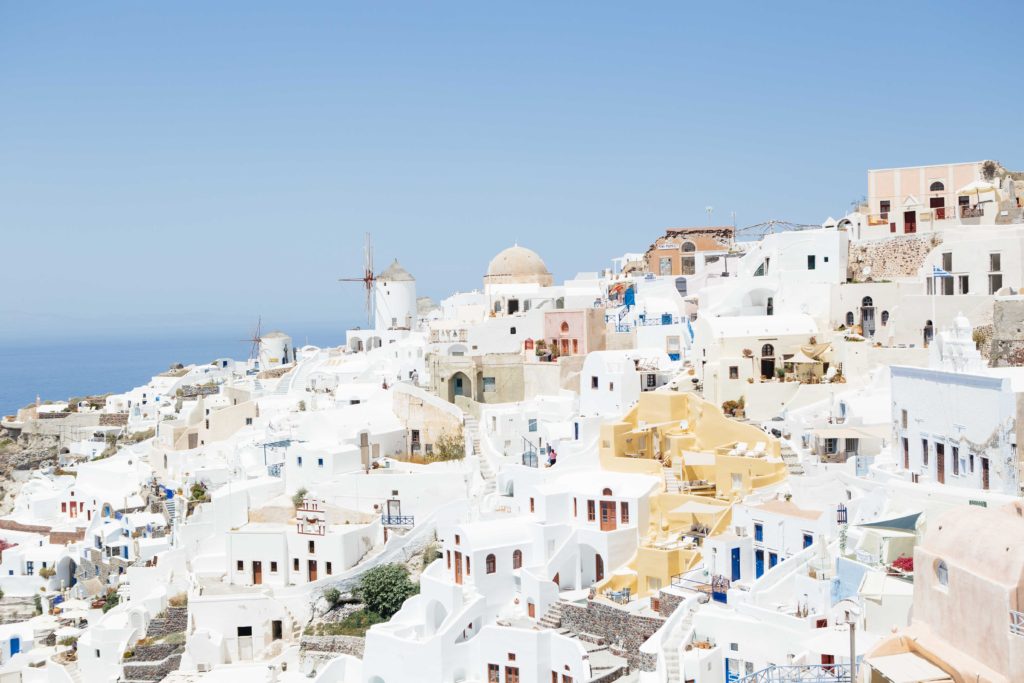 Where to stay for your first visit:
When people think of Santorini, they typically envision beautiful cliff sides covered in white and blue tiny cave houses. The three main cities with this view are Oia, Fira and Imerovigli.
We stayed in Imerovigli and it was PERFECT. Before coming to Santorini, I had read that this area is typically for honeymooners due to its tranquil and peaceful ambience, which isn't a huge deal for Kyril and I… but it seriously was so romantic. Something I quickly realized while there is that Imerovigli is definitely the best place to stay for anyone wishing to take photographs. It was a lucky strike for me.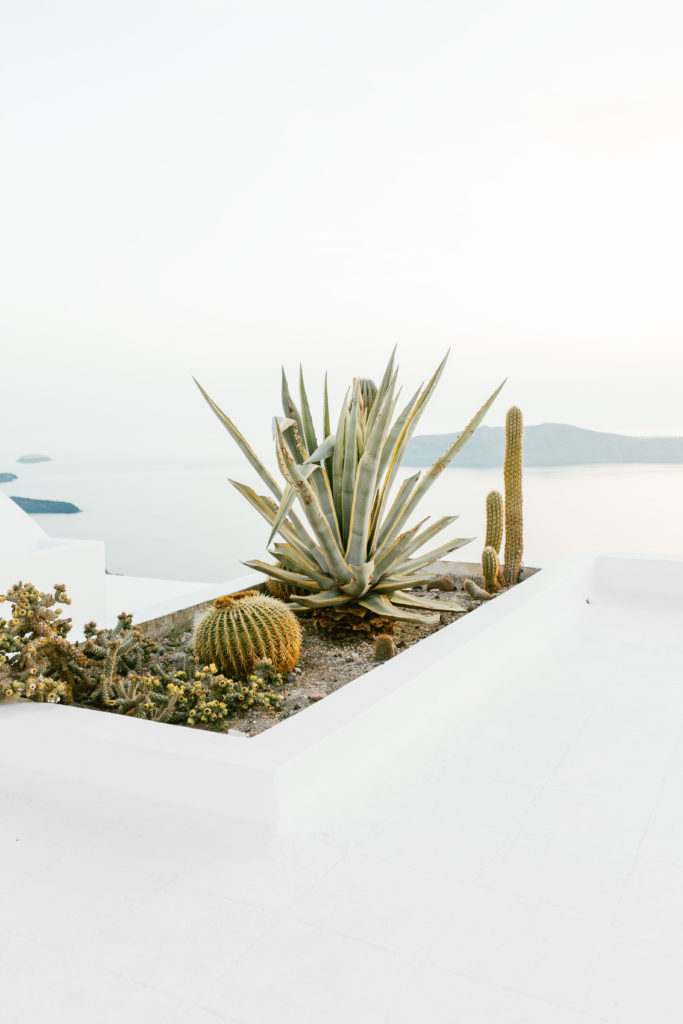 We found our hotel, the Abyssanto Suites, on Airbnb but to be honest it cost about the same as if you booked any other hotel. The kicker for us was that we had our own private hot tub and it cost just as much as a normal room would. I would recommend looking up hotels early and checking where the hotels are located on the map. Preparation ahead of time can guarantee that you enjoy Santorini at the location that fits you best.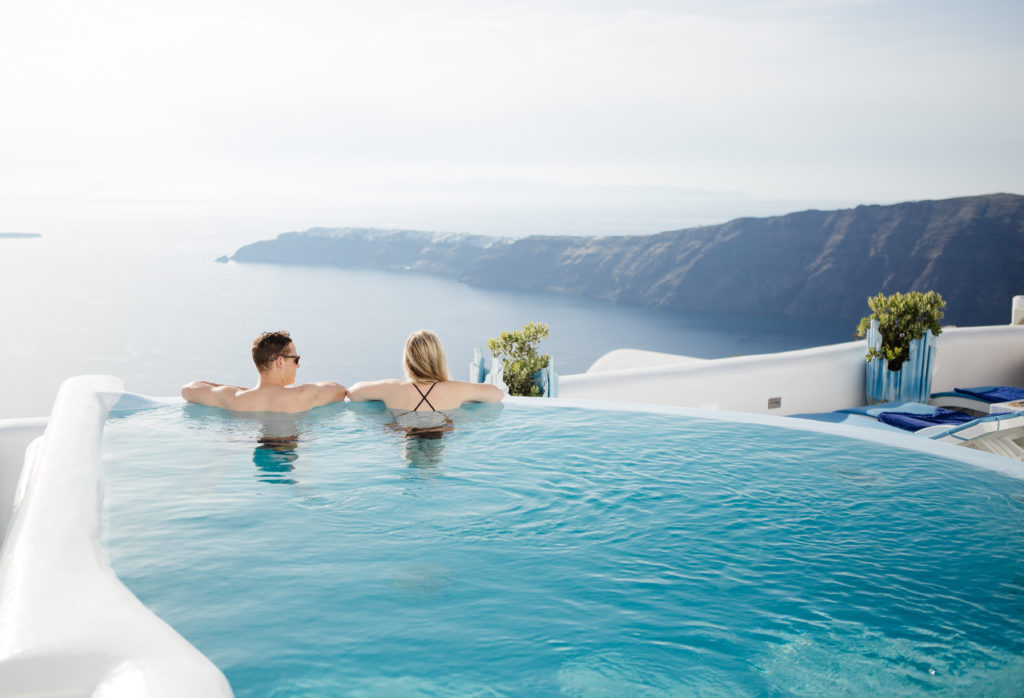 Oia was a close second for me because of the incredible sunset views and for the wide array of activities. It's a lot more touristy than Imerovigli, but it is definitely the most iconic place to stay in Santorini. Kyril and I found that Oia had our top two favorite things to do overall in Santorini.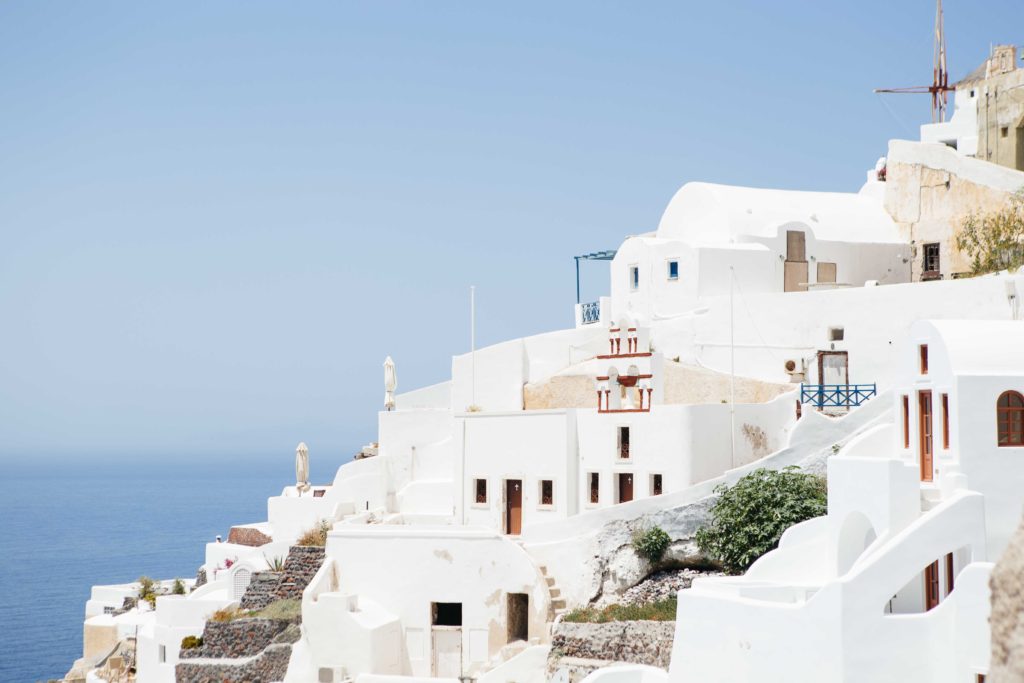 Fira is more for singles… or those couples out there that love dancing and more of a night life. It's the busiest of the three cities and great for shopping. I don't have much to share about Fira because Kyril doesn't like dancing.
And… where to stay your second trip to Santorini (or the second half of trip):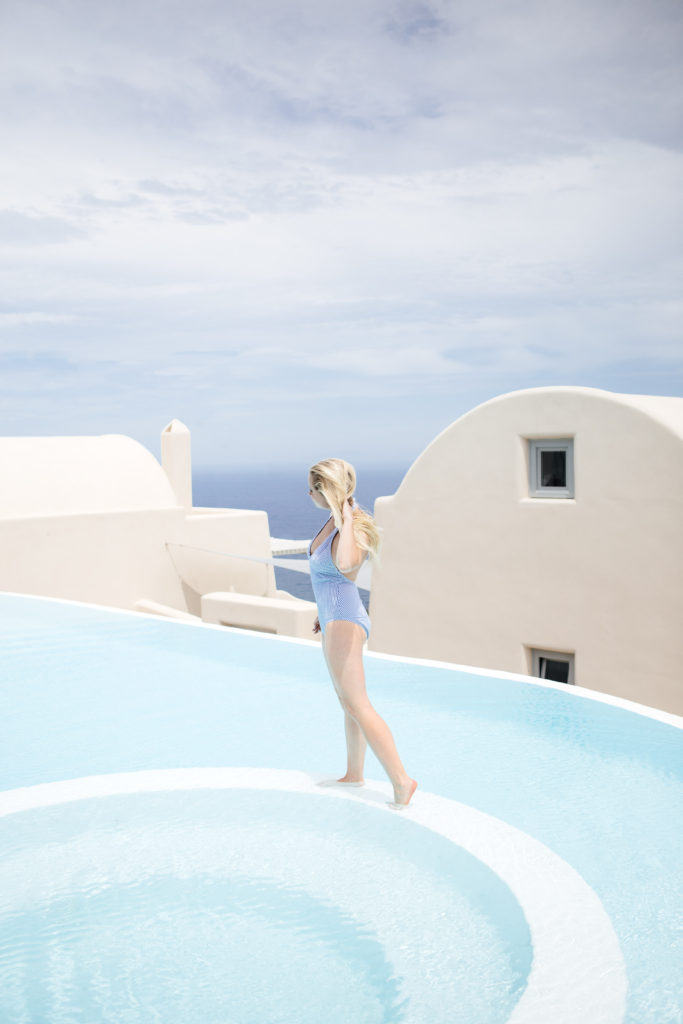 Next time we go to Santorini we'll definitely stay on the east side where we stayed our last night in Santorini. We stayed at the Dome Resort, and it was so dreamy. I think the east side is one of the most understated/best kept secrets of Santorini. This side is much less touristy, calm, and makes you feel like you have the whole island to yourself.
How to get around the island:
Three letters: ATV
To rent an ATV in Santorini it is 25 euros a day, gas not included of course. Kyril and I decided to rent a cute Fiat 500 because Kyril's dad has done too many surgeries on ATV riders. This was definitely something that we wanted to avoid, but as long as you wear your helmet(which they provide) RENT AN ATV!!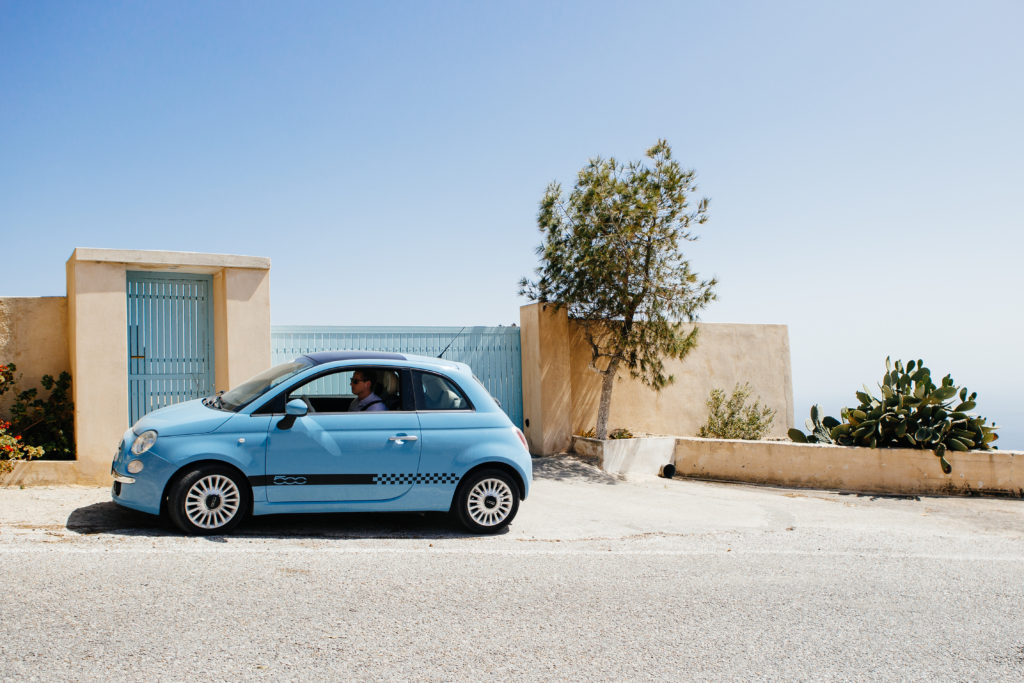 If you want to rent a car it's about 50 euros a day( so cheap!) with no deposit, and if you really want to save money, Santorini also has a bus system you can use to get around.
What to eat:
Tourist food, especially the restaurants in Imerovigli are RIDICULOUSLY overpriced and in my opinion not worth your travel funds. We found that the best food and ironically the cheapest are just Gyro's from the local Gyro stops. They're absolutely to die for, and if I remember correctly… less than 5 euros. The best part is they put the French fries in them so you don't have to pay for fries on the side.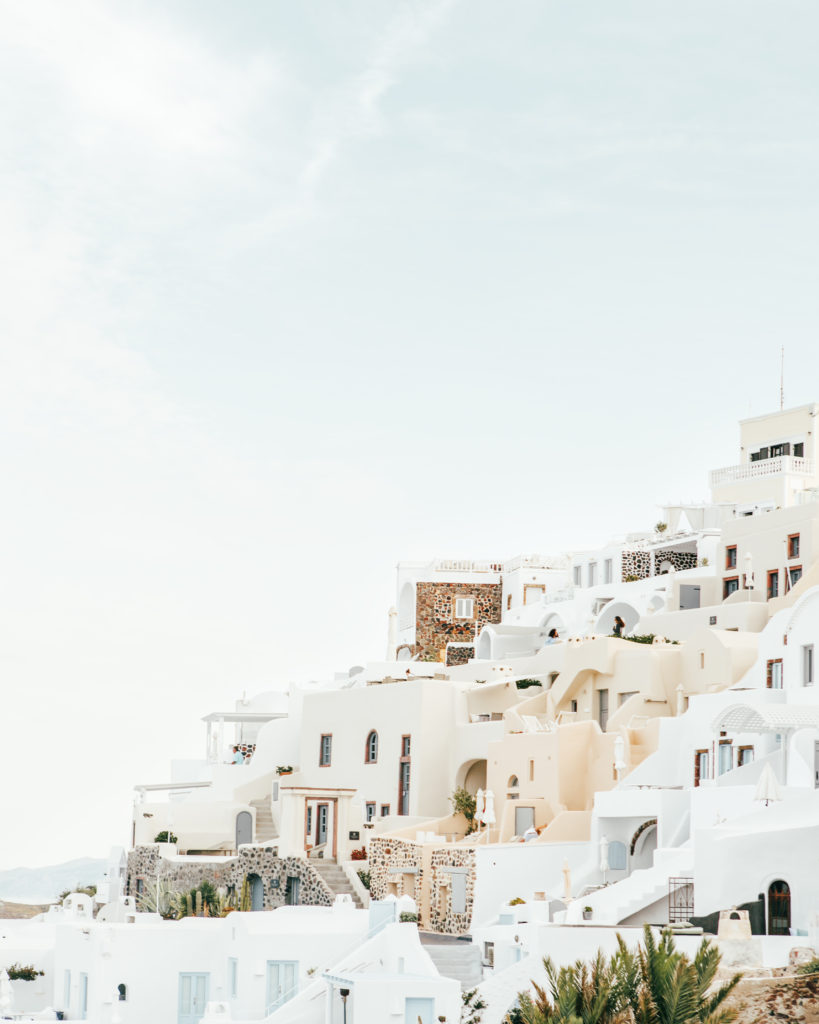 Now if you do want to go for a nice sit down dinner… I would suggest going to Spiliotica Café/Bar in Imerovigili. Despite being called a "café" it has a restaurant feel and a stunning view of the sunset. Everything there is reasonably priced and so delicious. We went there twice and both times I ordered their Greek Pizza. It was just TOO GOOD.  Additionally, almost everywhere you go the menus include a separate smoothie menu. I was addicted to the Piña Colada smoothie and ordered it every time we went out to eat.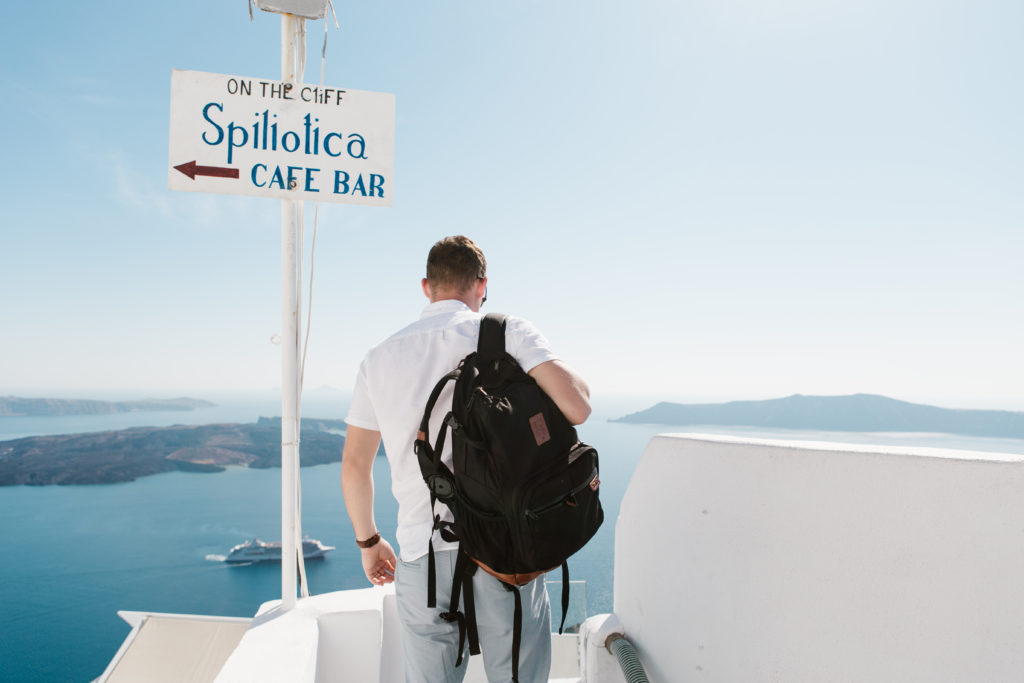 We don't drink, but a lot of places like to give you a free little shot of wine when you order. You can't go to Greece without hearing about their wine… But not visiting all the wine museums and vineyards saved us some beach time.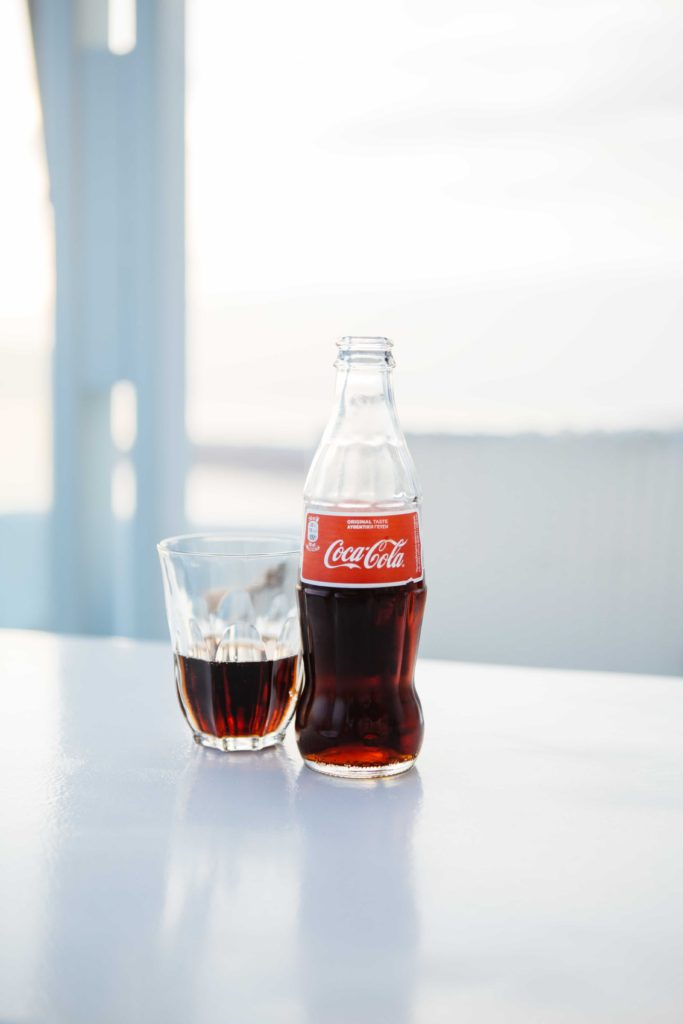 I wouldn't recommend going to any sunset restaurants in Oia because they basically make you pay a ton extra just for the view… a view that you can see even better somewhere else (READ BELOW)
Paradox Thai food in Oia is another one of my musts. They didn't have Papaya Salad when we were there so that made us kind of sad, but it was good nonetheless.
Things you MUST do:
Cliff diving & donkey rides at Ammoudi Bay
The best cliffs are located at the bay of Ammoudi the main port of Santorini.  The walk to this bay is especially hot. To get there you have to take a walk down some very steep stairs. That time spent baking under the sun will prepare you to take a dive in the perfectly blue crystal water by the time you are there. Best part, when you're done swimming you can ride donkeys up the same crazy staircase you had to walk down previously. I LOOOOOOVED riding the donkeys.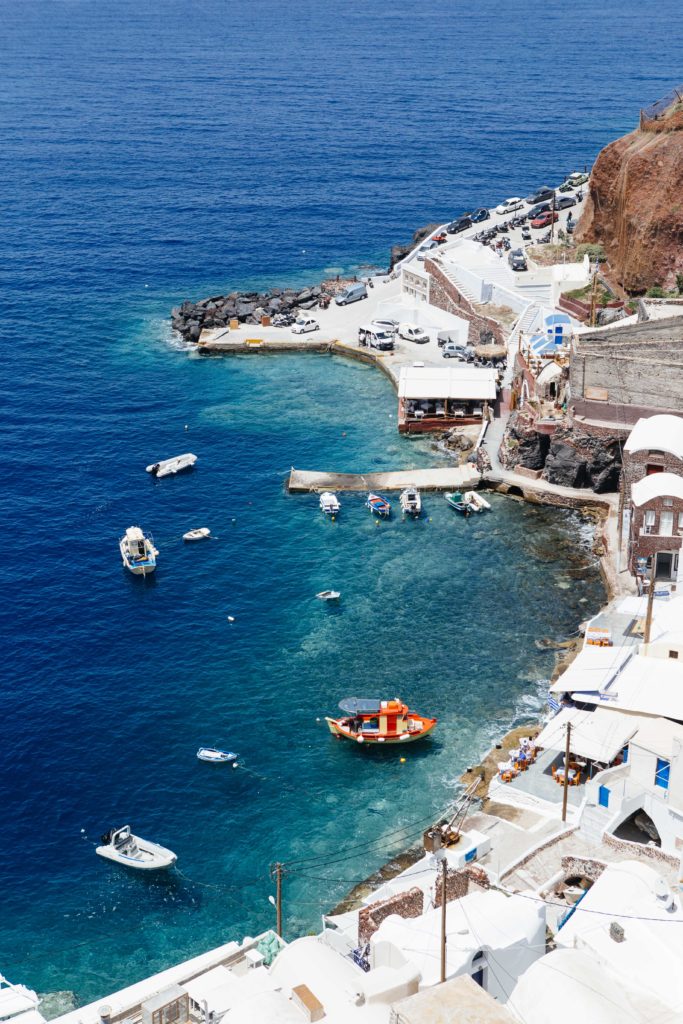 Donkey Rides
I was a little bit skeptical because I had read a few articles from Animal Protection groups coming down on donkey owners for overworking them and putting them through hard condition in Oia. Luckily, these same groups have created a lot of change, and all the donkeys are well protected and rested before taking riders up the stairs. In fact, after a set of donkeys come down the stairs, they are required to have a rest period of over an hour before taking people back up. I have so many cute photos of donkeys sleeping.  We had to wait a while to ride them but it was totally worth it. I had only ridden horses before this, and I much prefer the stability of a donkey to a horse. It was so much fun.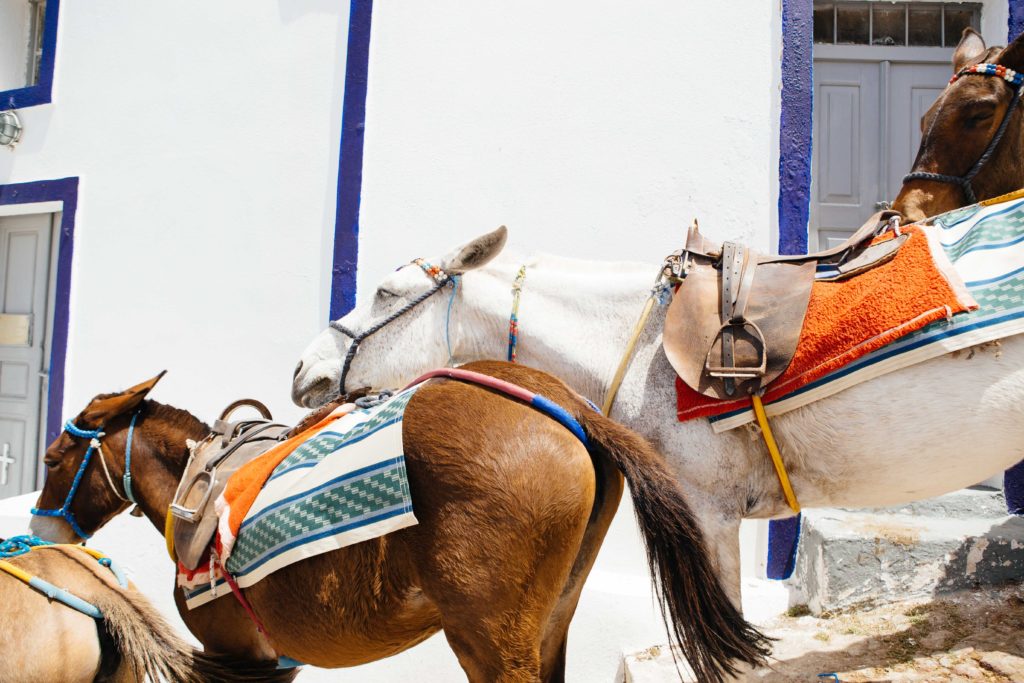 Beach day at the Red Beaches
Our favorite beach was the red beach BY FAR. When you park to go to the beach you actually can't see it. You have to go on a little walk before turning the corner that unveils the beach. For those that have hiked delicate arch in Arches Utah, it was much like how you take that small turn before revealing one of nature's most stunning views. The water here is a piercing crystal blue, and I love how it looks contrasted against the red cliffs. It's so stunning and a great beach for a tan and some dips. There's also a really good Gyro place right before you get to the little parking lot that leads to the beach as well.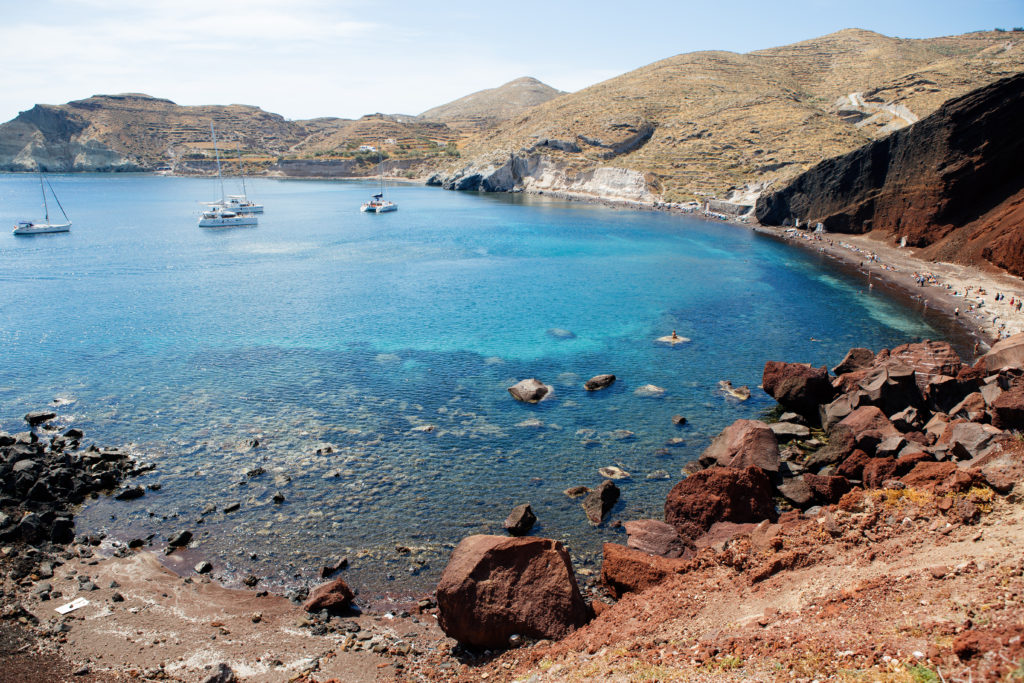 Sunset hike at Skaros Rock & visiting the little church at the bottom.
Located in Imerovigli this little hike is so stunning and allows you to get a view of all the west side cities, Oia, Imerovigli, and Fira. To get to the top of the rock you have to do some minimal rock climbing, but it's sooo worth it for the view. It allows you to see the sunset at the perfect spot, and the little yellow daisies at the top are just so dreamy.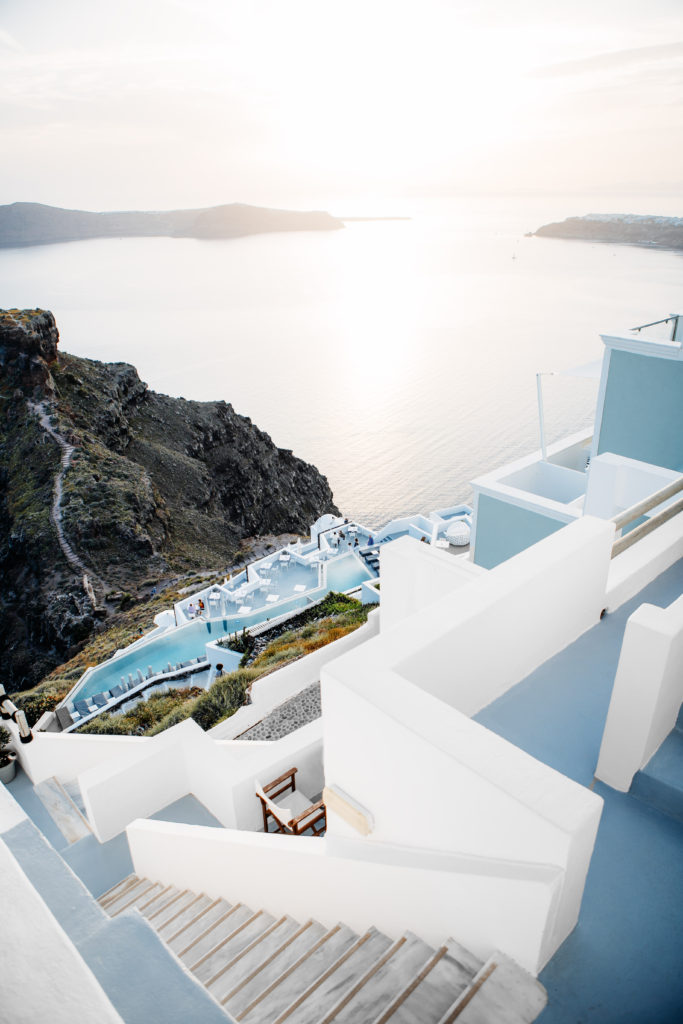 To get to the rock, just take the main pathway through Imerovigli past the Grace Resort, get a view of Santorini's best infinity pool, and then walk past another little blue and white church. You'll be tempted to stop but it isn't as great for pictures as the church behind Skaros Rock. As you continue hiking to the rock, there will be a fork in the road. One path leads to this cute little church close to the coast and the other to the top of the rock. I would get to Imerovigli about  2 hours before sunset so you can visit the church and see the sunset at the top of the rock. Taking the fork in the road that leads to the ocean you will find the remote chapel Theoskepasti (God Covered); the most white church standing all alone staring at the horizon.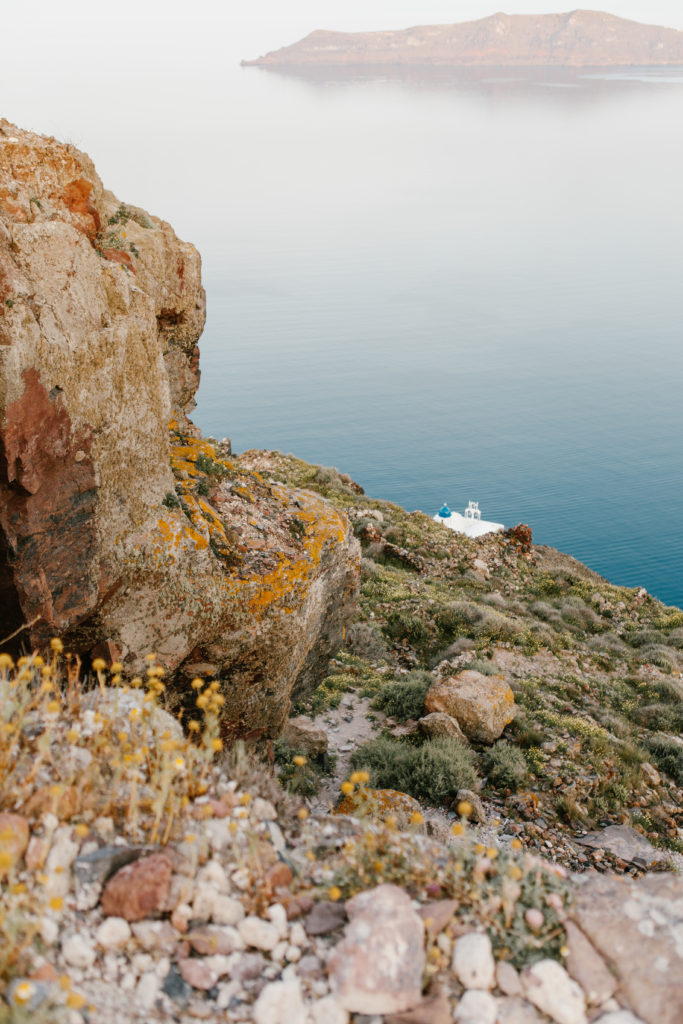 What I loved about this chapel is that they actually have a path leading to the roof so you can look out from the roof. It's hard to describe how incredibly peaceful it is as you stand on the edge of the ocean filling your lungs with the sea breeze and your heart with tranquility.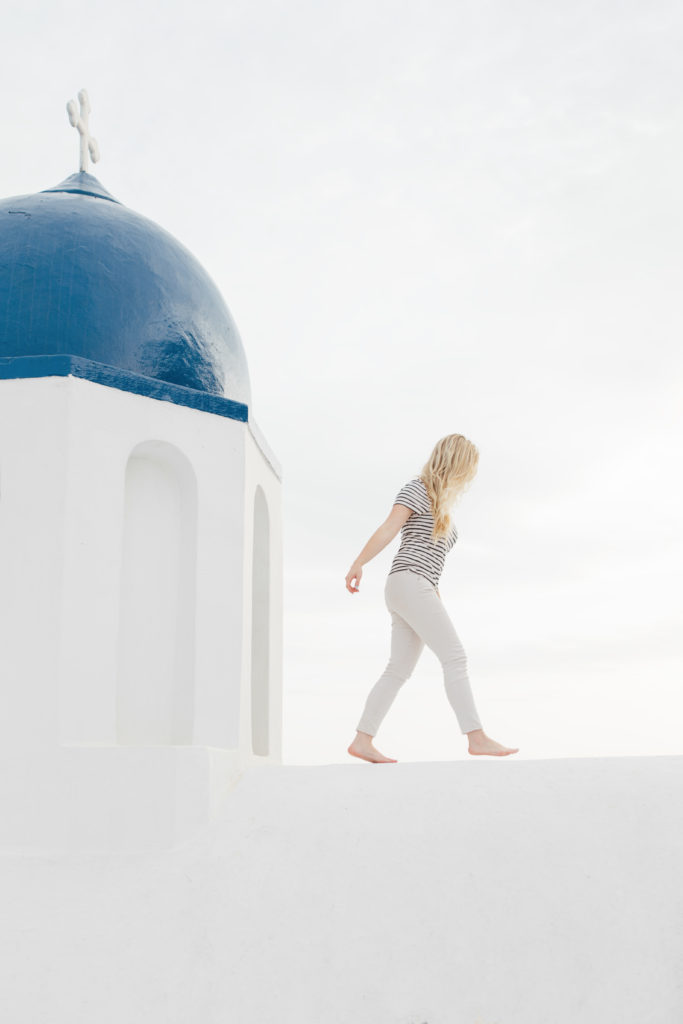 Sunset in Oia
Everyone claims that it's a bucket list item to see the sunset in Oia. This is because it's the only spot on the island that allows you to see the the sunset with no islands blocking the view. Since this spot is so sought after, crowds in Oia get a little crazy close to sunset. We found that the best way to enjoy the Oia sunset without large groups of people was to take our little Fiat to the road right by the coast of the far East side of Oia and have the view all to ourselves. If you're walking from Oia, I'd recommend parking on the road adjacent to the Paradox Thai restaurant then walking past the little light houses until you get to the local's neighborhood where you can have the views all to yourself.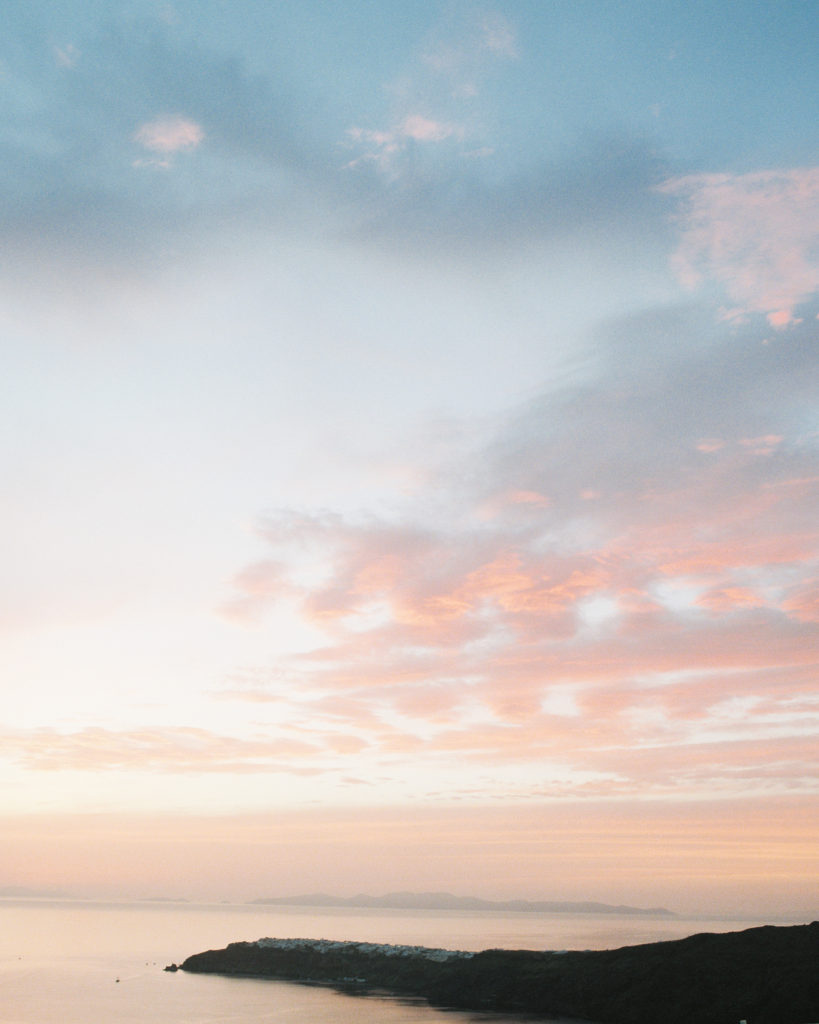 Watch the sunrise on the east side
In Santorini, everyone plans their day around sunset, but I found the Santorini sunrises to be even more breathtaking than the sunsets. I'd recommend setting your alarms one morning and taking a drive to the East side and watch the sunrise. There's something about the blue on the East side that is just so mesmerizing. The color seems to change every day.
Take photos right after sunset in Imerovigli!
They say the best things in life are free, and (besides paying for film) taking photos is a must in Santorini. I found that the best light & location for me was taking walks in Imerovigli right after sunset.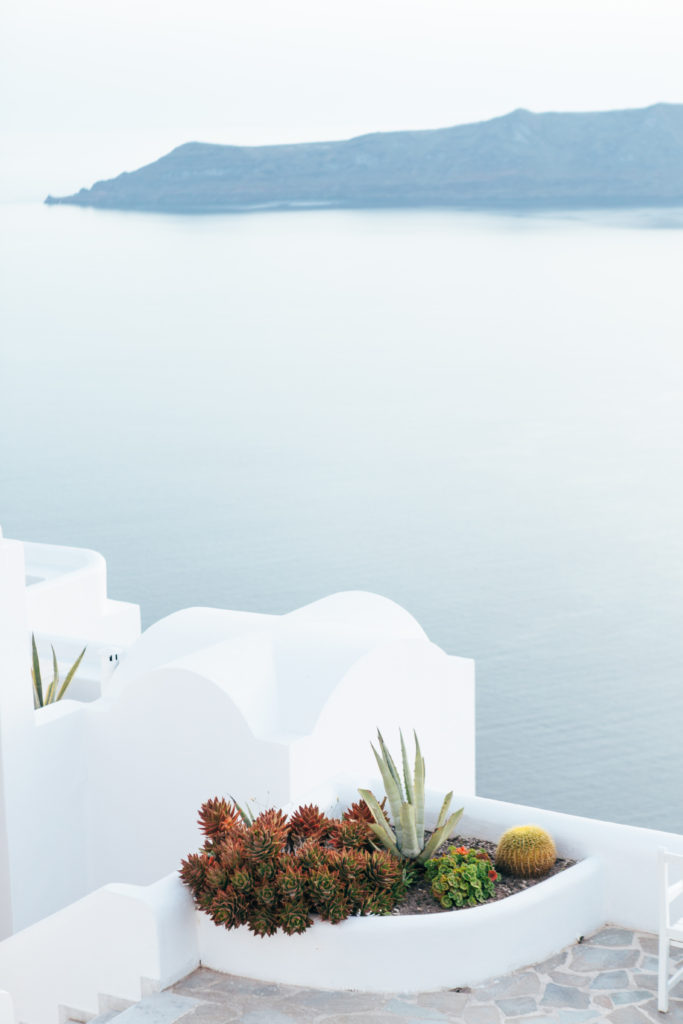 Go see some of the local artists.
Located close to the airport, you'll find a few art shops off the road with incredible frescos and pottery inspired by Minoan, an ancient Greek artform. For those art nerds out there, you'll love this.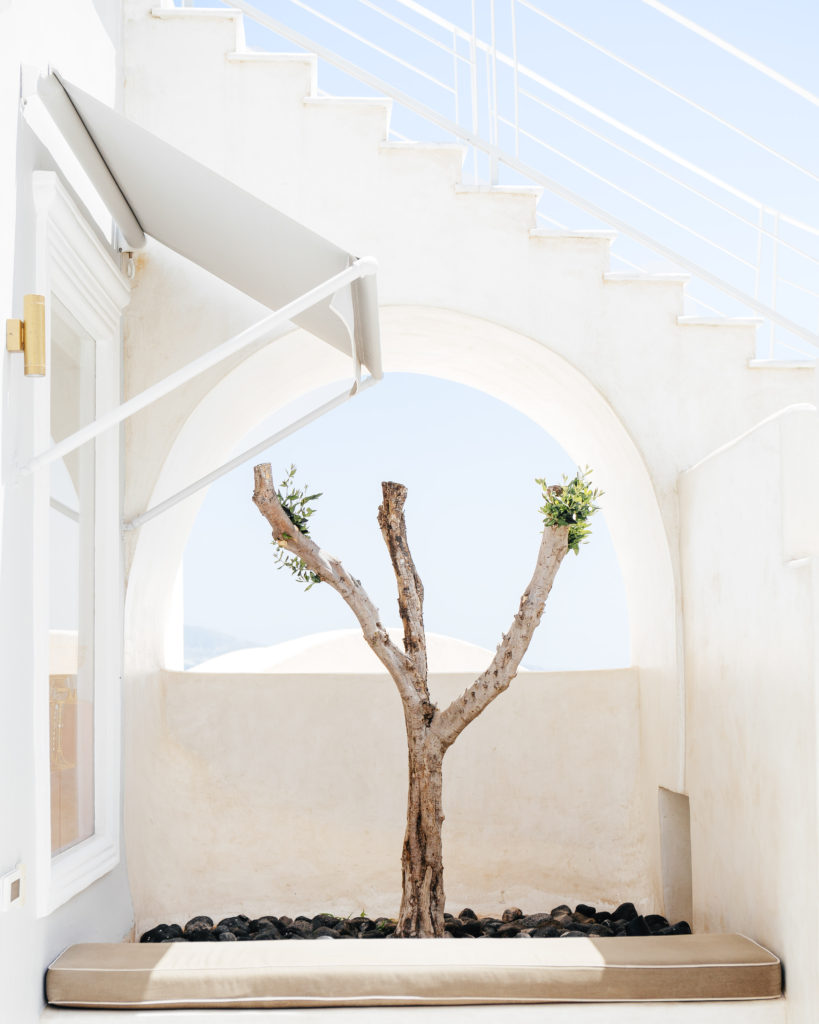 Drive to the Prophet Elias Monastery and see the whole island
Did you know it's possibly to see the whole island of Santorini from one spot? If you type in Prophet Elias in your GPS be aware there are two Prophet Eliases and you'll be able to tell which one is the right one because there pretty close to each other and the right one is higher up than the other. Once at the top, you'll enjoy an incredible view and some nice zephyrs. The monastery has a cute garden, but is essentially just a little gift shop.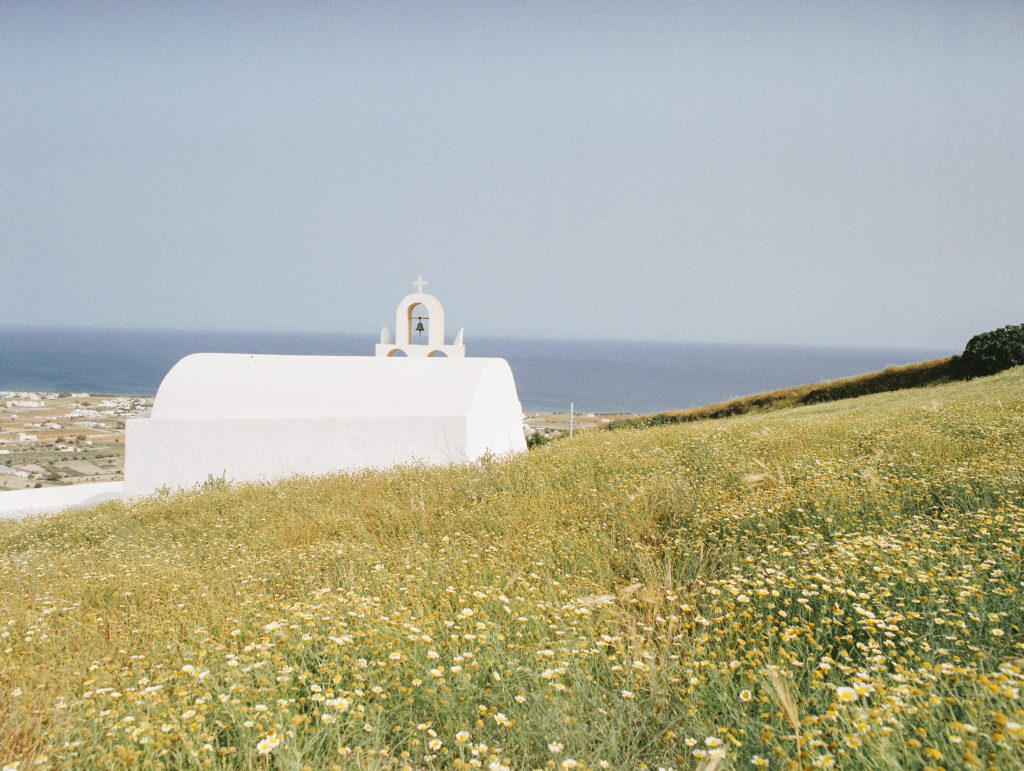 Go to the black sandy beaches
I remember when Kyril and I went on our honeymoon to Maui one of the major selling points was that Maui has a black beach. It was such a novelty to me. Well…  in Santorini, every beach is a black sand beach. Besides the red beaches our favorite black beach was Kamari beach. However, all the other beaches Perissa and Perivolos are pretty close.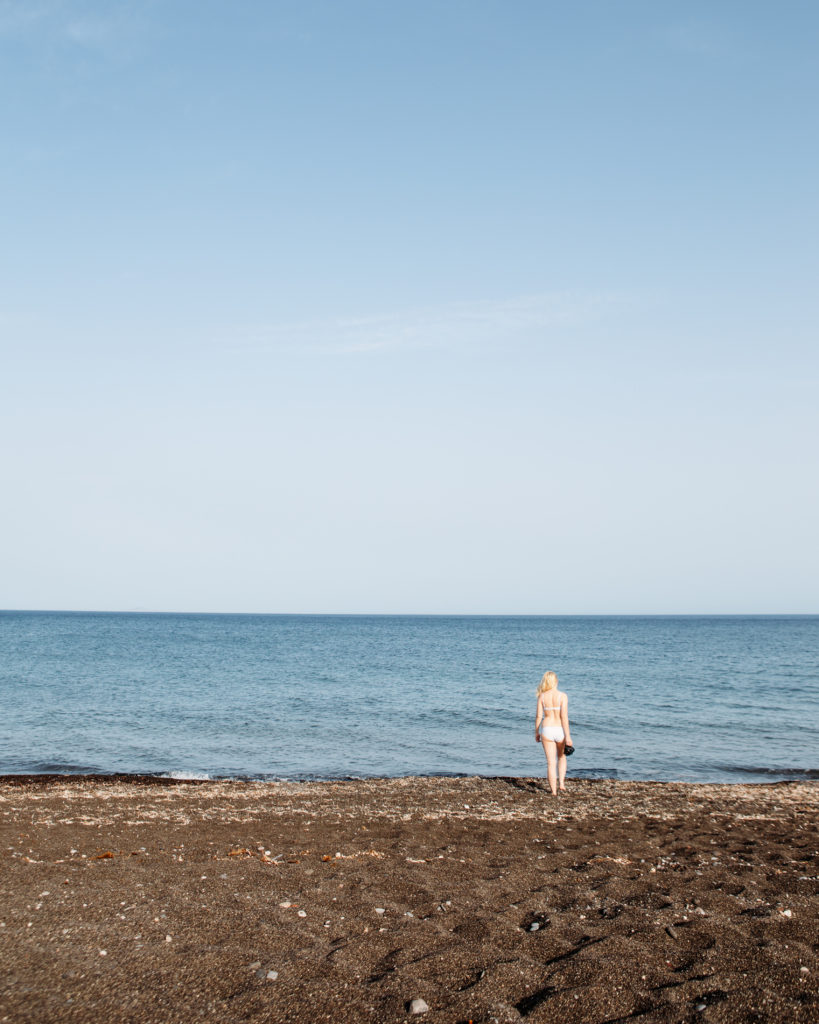 Take a boat around the island
We didn't actually do this, but a lot of yacht companies offer sunset tours around the beach for snorkeling, barbequing, and of course the sunset. Next time we go to Santorini, this is at the top of our to do list.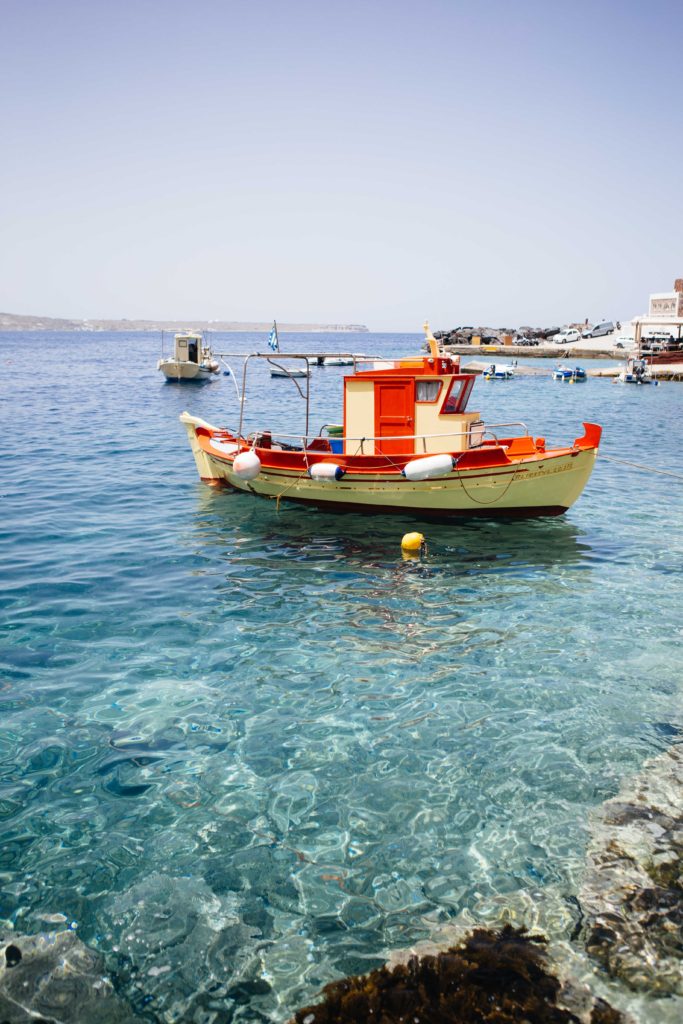 Drive around the whole island
Pretty self explanatory, but so wonderful.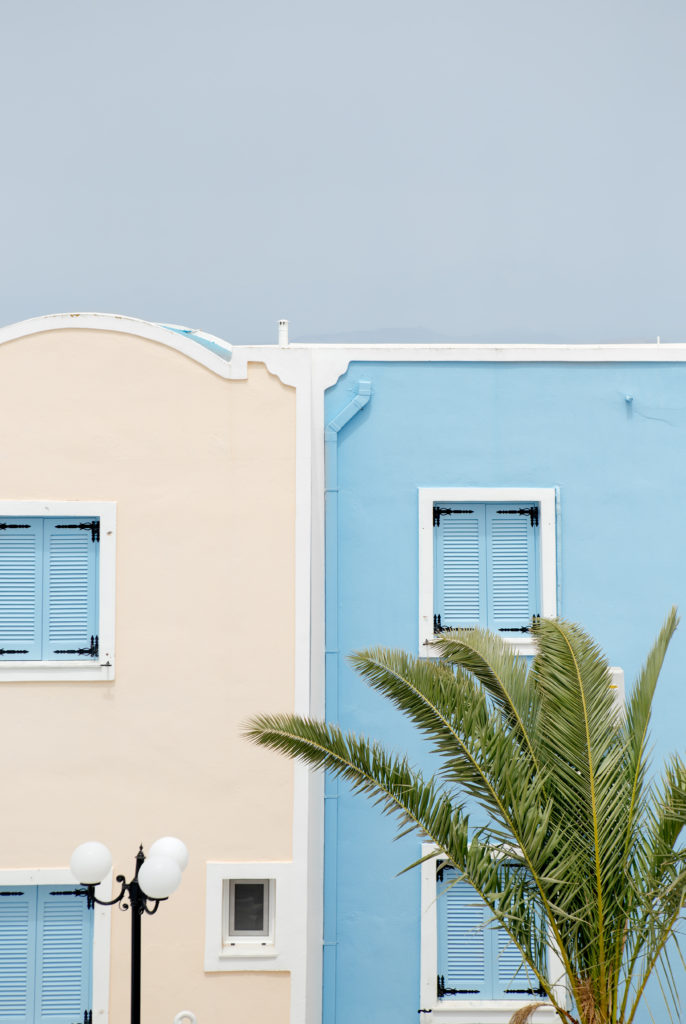 Shopping and night life in Fira
Fira is definitely the best for shopping. They also have a McDonalds.. if you're wondering. Again, night life wasn't really our thing, but if it is… Fira is like the NYC of Santorini.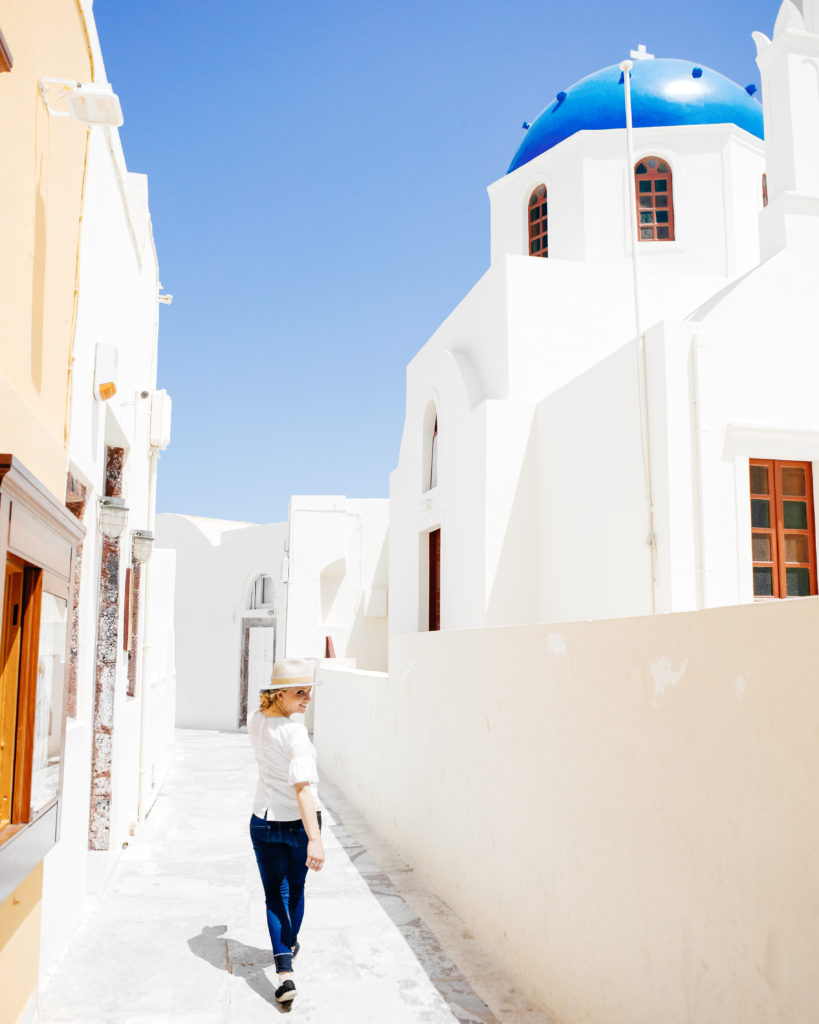 Didn't really like:
The excavations
And yep… that's it haha
Other useful tips:
Oia is pronounced with the O silent… like ia!
You can't drink the tap water in Santorini.. bottled only. But it's pretty cheap.
Enjoy your adventures! If you have any questions, leave them below! If you want a free photoshoot in Santorini.. bring me along:)